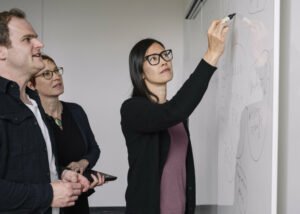 FAU partnered with SmashMedicine
In 2020, SmashMedicine was established across Europe with the help of EIT Health. This was originally an EdTech platform for medical students based on the research work of Dr. Benjamin Harris at Oxford. A measure of its success is that faculties are now building the platform into their courses, and there is a wide interest to join from across the EIT Health network. On the platform, students write and review multiple choice questions, developing skills such as critical thinking and creativity. This solution is also, by serendipity, ideally suited to remote learning in the post-Covid era.
FAU joined SmashMedicine in 2022 to extend the platform to medical engineering students and to German-speaking regions. The aim is to transform the education of multidisciplinary teams using novel pedagogical approaches and the support of artificial intelligence to deepen symbiotic learning.
For further information contact:
Dr. Lisa Walter